Containerised Switchrooms are designed taking into account customers detailed requirements.
Recent Twyver Switchgear Containerised Switchrooms have included High Voltage Switchgear, cast resin power transformers, LV. Distribution switchboards, power factor correction equipment, battery charging / switchgear tripping units, instrumentation / power monitoring devices, air conditioning, emergency lighting equipment together with general power and lighting.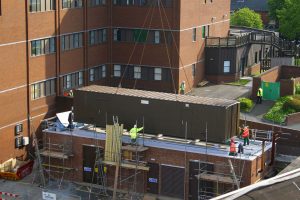 The Containerised Switchroom Solution is often quicker and more cost effective than traditional brick built options.
Containerised Switchrooms can provide:
Space saving solutions
Fully weatherproof designs
Quick turnaround from order placement to delivery
Ease of installation
If required can be readily moved at some later date
With floor space at a premium, the containerised switchroom solution releases valuable internal floor space for more
productive retail, commercial or industrial use.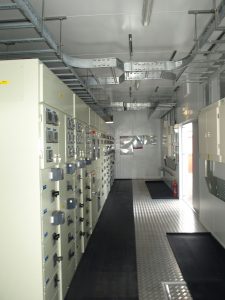 If required the containers can be sprayed in any BS colour to blend with the surrounding environment.A containerised switchroom can be readily installed either at ground or roof level.
The switchrooms are factory tested prior to delivery to site.
Twyver Switchgear engineers will arrange delivery to site and off-loading. If required we can arrange lifting into position and bolting of container to prepared foundations.
In today's fast track environment, the containerised switchroom solution can speed up early stages of planning, as decisions regarding the size and position of a conventional brick built switchroom are no longer required.