TWYVER WITH THE DRAGONS AT STRATFORD UPON AVON!
Twyver with the Dragons on Sunday 3rd September 2017 at Stratford upon Avon! No switchgear, no motor control centres or any panel on this particular day, but dragonboats! Twyver Tigers were back to support the Shakespear Hospice charity event for the third time … and raised £1,000 for the Shakespear Hospice charity event with the Twyver dragonboat!

TWYVER WITH THE DRAGONS ON SUNDAY 3RD SEPTEMBER 2017 AT STRATFORD UPON AVON!
For the third time, Twyver registered to this Shakespeare Hospice charity event.
TWYVER was part of the 18 teams in total registered to the annual Dragon Boat Race for The Shakespeare Hospice charity event this year 2017.
How did it work?
The dragon boats are 40ft long Chinese war canoes. 12-17 people make up one team, whilst a qualified helm from Dragon Boat Events controls and steers the boat from a standing platform. The races ran throughout the day over a short course of around 250 metres. Each team ran three races during the day, with races starting at 10am. Then each team's single best time over those three races had been used for qualification into the final round using all available dragon boats in one last race. Following the final, the winning team members had been crowned Dragon Boat Champions!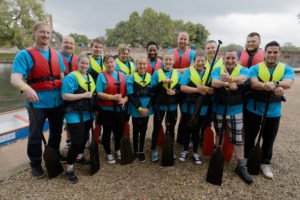 One team did not come (forfeit) … due to the English weather?
However, it was great fun for all the families. Races started at 10.30am, from the Stratford-Upon-Avon Boat Club. The four finalists concluded their final race around 3pm.
Five Vinci Energies UK Teams competed: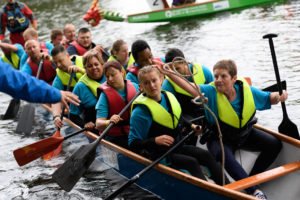 TWYVER– Twyver Tigers

Actemium Birmingham – Birmingham Flyers 

Actemium/Axians Coventry – Blazing Paddles

Actemium East Midlands – Two Oars, One Trophy 

VINCI Energies UK & RoI – VINCI's Finest 
Amongst the 17 teams, three Vinci Energies teams qualified for the final race out of four finalists! Well done guys!!!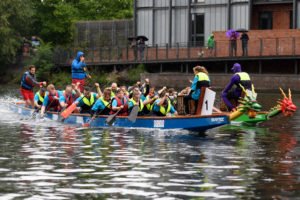 Twyver team won its three races, but did not qualified for 0.05 second.
However, the team is very happy to have participated (under the rain). They improved their best time from last year (1.32.57) down to (1.12…): about 20 seconds less in such dreadful weather conditions!
Twyver Tigers will come back!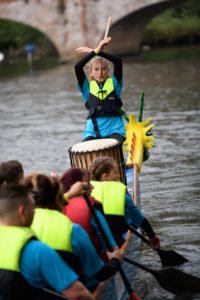 Non classé